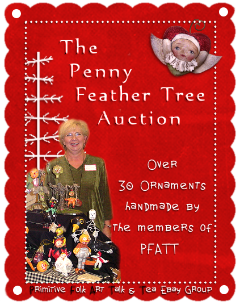 As many may already know our wonderful, gifted artist & dear friend Penny McAllister, is currently fighting leukemia.
So on this special Valentine's Day... with the love & talent of over 30 Pfatt artists we have created a special ornie(ornament)Penny Feather Tree in honor of Our DEAREST Pfattie sister Penny.
The Penny Feather Tree Auction starts tonight Sunday February 14th at 9:00pm EST-6:00pm PDT
All proceeds from this auction will be donated to the Leukemia and Lymphoma Society.
Penny is a lover of red, polka dots & Lady Bugs.
I made a sweet Lady Love Bug ornie.
My sweet & talented stain glass artist Mom, Alice Foley even made an Ornie.
From her heart she has donated a red stained glass heart.
I would like to thank our wonderful Pfatt artist for coming together for their sweet sister Penny. And also big hugs & thank yous to our Pfatt Sister & dear friend; Lori'Nana'Davis for all her hard work putting the Penny Feather tree together.
We hope you stop by and place a bid.
And we thank you all for supporting this very worthwhile cause.
For The Penny Feather Tree Auction please click on the Penny Feather Banner at the top of this page.
Happy Valentine's Day
OXOX
~Kaf